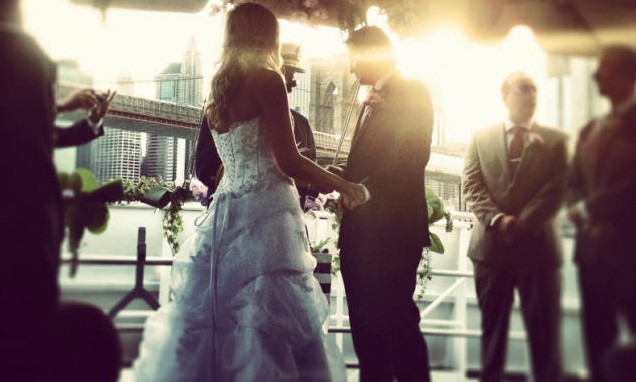 A couple's wedding day is an exciting time, with so many factors that can play into the success of the event.  The venue can make a big difference in the day going off without a glitch, not to mention making this a day that the happy couple and their guests will remember fondly.  A wedding aboard a luxury yacht charter can take your wedding to the next level.  From nuptials on-deck, with the beautiful ocean background, to a live DJ and dance floor, a private boat wedding is truly one-of-a-kind.
FTL Yacht Charters can make your dream of a wedding aboard a private boat in South Florida a reality.  Our fleet of luxury yachts can accommodate small, intimate weddings to larger affairs with hundreds of guests celebrating onboard.
Private Yacht Charter Wedding Amenities
The scenic views and the ambiance aboard your own private yacht are alone enough to make this an experience that the bride and groom and their guests will fondly remember forever.  Add to this the onboard amenities that can go along with your luxury yacht wedding and this is a venue that cannot be beat.  Luxury yachts can have a sit-down meal, prepared by the onboard chef, for their wedding guests.  Or if you prefer a more casual atmosphere, a buffet-style meal can be served.  Onboard waitstaff and bartenders can make sure your guests have everything that they need.
Weddings aboard a luxury yacht can be fully decorated for the event, with flowers and other décor to commemorate the occasion.  Some yachts have a dance floor and accommodation for a DJ or even a live band to provide entertainment for your guests.  With plenty to do aboard a luxury yacht, your guests will have the time of their life celebrating your wedding.
Celebrate an Engagement, Wedding Reception or Anniversary Aboard a Luxury Yacht
A private boat is a great venue for a wedding, but this can also be the perfect way to celebrate an engagement, wedding reception, or even an anniversary.  Your guests will be treated to the many amenities that a luxury yacht has to offer, along with meal and beverage service that is sure to keep everyone satisfied.
Whether you are planning a wedding, reception, or engagement dinner, a luxury yacht charter is a great way to make sure this is a truly unique experience for everyone.  FTL Yacht Charters offer plenty of private yachts that are a perfect fit for your big day.
Share This Post