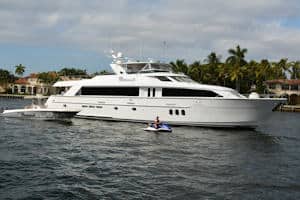 A private yacht is a great way to get away from the rigors of everyday life with a small group of friends or family, while still social distancing. Our yachts are always cleaned, sanitized and disinfected before and after every charter group. This thorough process ensures the safety of our customers, even through the COVID-19 pandemic. There are few ways to enjoy yourself during this time that offer the same level of privacy and clean area than a luxury yacht charter.
Extra Precautions Taken to Ensure Your Safety on a Private Yacht Charter
Booking your private boat charter can all be completed entirely online or via phone, adhering to all social distancing guidelines. You and your guests can then enjoy many hours of fun aboard the private charter. The onboard captain and any crew members for your luxury yacht are always screened for any sickness and will not travel on the boat if there is any potential for illness.
Crew members can take additional precautions, including wearing mask and disposable gloves upon request. The yachts are regularly cleaned and sanitized before and after every charter. In addition, during your time at sea all frequently touched areas and surfaces will be disinfected and wiped down regularly.
A Dedication to Your Health and Safety
Steps to clean and sanitize every private yacht ensures that this is a clean environment, treating every crevice and corner to ensure that you and your guests remain safe and healthy. This is just another way our yacht charters are setting the pace for a healthy environment to keep guests safe during their time at sea.
These additional cleaning procedures and sanitization steps, combined with the privacy and social distancing that a luxury yacht charter can offer, ensure that you and your guests will have a safe and enjoyable time onboard the private boat.
For a complete listing of private yacht charter available visit https://ftlcharteryachts.com/charter-yachts.html or call 954-652-1942.
Share This Post