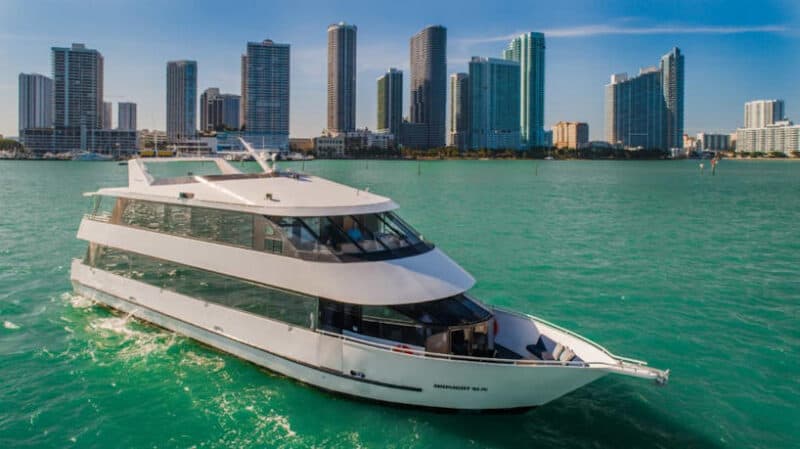 Fall is one of the best times to book a yacht charter through Southern Florida and beyond.  The heat of the summer months is behind us, and the comfortable weather can now be enjoyed from the deck of a luxury yacht, while basking in the sun and taking in the stunning scenery that the area has to offer.
Fall Temperatures Make Your Time at Sea Comfortable
A fall day, weekend, or an entire week spent on the deck of a yacht charter is something to be remembered forever.  The oppressive Florida summer temperatures are gone and a more comfortable climate during the day makes this weather ideal for lounging in the sun.  The evenings often bring crisper temperatures that are ideal for curling up on a lounge chair deck-side.  Cool ocean breezes further add to the ambiance of a yacht charter in South Florida during the fall months.
Celebrate the Fall with Friends and Family Aboard a Luxury Yacht Charter
With the whirlwind of summer behind you, the fall months are a great time to get together with friends and family and there are few better ways to enjoy this time together than on the open sea.  With boats that can accommodate anywhere from two guests to those numbering in the hundreds, you can have a private gathering or a big event to celebrate the end of summer.  A yacht charter can take the stress out of planning your gathering, and you can be sure that this is something that everyone will enjoy no matter their age.
A yacht charter is also a memorable way to celebrate an important life event.  From a wedding on a boat, dancing away the night to a DJ while at sea, to celebrating a birthday or anniversary, FTL Yacht Charters' fleet is second to none.  Additional amenities such as meal service, decorations, floral arrangements, and live music can further take your celebration to the next level.
Book your fall yacht charter now to make sure you get the perfect luxury yacht for your gathering and have something to look forward to all summer long.  See FTL Yacht Charter's complete line of luxury yachts at http://www.ftlyachtcharters.com/.
Share This Post