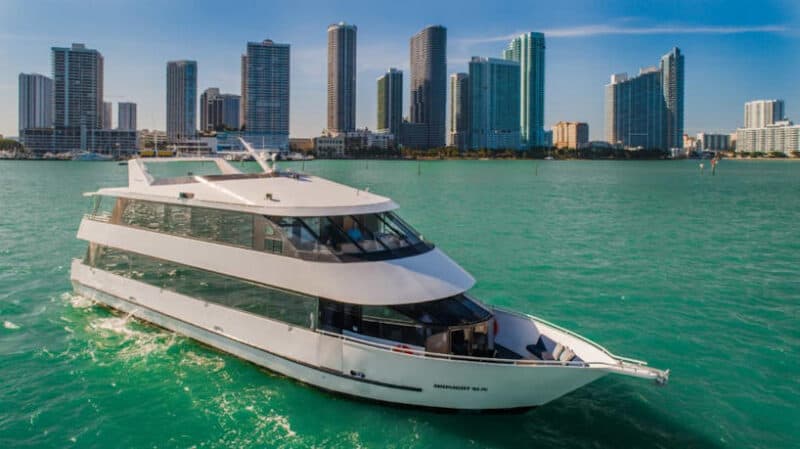 The spring and summer months in South Florida can be the perfect time for a getaway.  The warm weather has arrived, making time at sea a welcome escape.  This is a great time to experience South Florida and the many beaches, sandbars and more from aboard a private yacht charter.  Experiencing Miami and the surrounding area from the water is a trip like no other, making a private yacht charter an experience that you will cherish forever.  This is a great time to book a private yacht, with warm weather, shining sun and the seawater cooling the air, all while taking in the beauty of South Florida.
Experience South Florida like Never Before, From Aboard a Private Yacht
Guests will marvel as they take in the sights of Miami, nearby beaches and the beauty of the open ocean.  FTL Yacht Charters offers a wide range of yachts available, with an array of amenities for you and your guests.  Your private yacht can include a full-service bar and deck observation area, satellite tv and oversized windows, and much more.  The onboard crew is attentive to your needs, in many cases with full food and beverage service available.  All of this, and more, will ensure that your yacht charter getaway is unforgettable.
Celebrate an Event or Gather with Friends and Family Aboard a Luxury Yacht
A private charter of South Florida is a great way to celebrate that special warm weather event.  FTL Yacht Charters has boats that can accommodate anywhere from a small intimate gathering of family and friends to celebrations in the hundreds.  Whatever your reason, a South Florida boat charter is a great way to celebrate any occasion or just take a much-needed vacation.
Smaller, intimate private yachts allow you to enjoy time with only a few friends and family in a more close-knit setting.  Even on these smaller yachts, the amenities are plentiful to ensure that you and your guests enjoy their time aboard to the fullest.
This spring or summer, see South Florida like you never have before from aboard a private yacht from FTL Yacht Charters.  Visit https://ftlcharteryachts.com/charter-yachts.html for a listing of luxury yachts available.
Share This Post