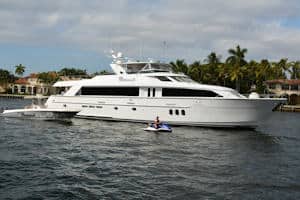 The weather is heating up in South Florida, making this the perfect opportunity to book a private yacht charter of Fort Lauderdale and Miami. You can relax on the deck aboard your private luxury yacht, soaking up the South Florida sunshine. This is a great way to get out and start enjoying the warmer weather after the winter months.
Warm Days and Cooler Nights, Make this Ideal Weather for a Luxury Yacht Charter
The spring is a great season to charter a luxury yacht in Fort Lauderdale or Miami. The warm days and strong sunshine make time spent on deck, basking in the sunshine, a relaxing experience for everyone. The days, while warm and sun-filled, are not yet the heat of the summer, adding to you and your guests' comfort level.
As the sun goes down and evening sets in, there is often a cool breeze on the water. The picturesque beauty of Fort Lauderdale and Miami at night, combined with the cooler temperatures, make for a cozy experience deck-side aboard your private yacht charter
From Special Events to Long Weekends and Day Charters
A Fort Lauderdale or Miami yacht charter is the perfect way to commemorate a special event or just to spend a memorable experience on the water with friends and family. A private yacht is a wonderful way to celebrate a wedding, engagement party, anniversary, birthday or other life milestone. Yacht charters are also the perfect way to spend time with friends and loved ones, from an extended overnight to a day charter.
FTL Yacht Charters has a full range of Fort Lauderdale and Miami boats that are sure to be the perfect fit for your next celebration or casual gathering.
Visit https://ftlcharteryachts.com/charter-yachts.html to see a complete list of the South Florida boats available.
Share This Post